Train-hopping In Mauritania
Often described on the internet as "the most dangerous train in the world", the iron ore train of Mauritania has become famous among travelers to the region. The train itself reaches up to 2.5km in length and traverses 704km on one track. The massive, heavy cars, each one capable of carrying up to 84 tons of iron ore, seem to go on forever as the train barrels into the "station". As with most things in Mauritania, there are very few safety protocols involved with riding the train. Depending on which direction you go, you will either be riding on top of a mass of iron ore, towering above the lackluster tracks, or you will be inside the cars, jostling around, hoping that no nefarious people hop in. We didn't experience any crazy horror stories when we rode this gargantuan, steel giant and we both survived unscathed. However, it was truly one of the coolest, objectively badass things we have done traveling.
The train was built to transport iron from the giant mines of Zouerate in the center of the country to the largest port city of Nouadhibou. Since there is no road connecting these parts of the country without a 400km detour through the capital, the train is used by passengers as well. There is one car devoted to passengers who pay for the journey, or you can do as most people do and just hop inside one of the many cars and ride for free.
There are two options for riding the train which offer, I'm sure, two very different experiences. One option is to get a ride from Nouakchott, in the south, to Choum, a town just a few kilometers from the border with Western Sahara. The train makes a stop in Choum, so passengers wait by the tracks in the dead of night to hop on and ride to Nouadhibou, where you will arrive in the morning. In this direction, you are riding in full cars, on top of the iron ore, beginning at night, catching a sunrise, and finishing in the daytime.
We went the opposite direction, from Nouadhibou to Choum. In this direction, the cars are empty, which was great because we got to enjoy tea and dinner made by our car-mates (in Mauritania it is sacrilegious to go longer than a few waking hours without tea). We also didn't have to wrap ourselves and our things in sheets or plastic, like people recommend you do in the other direction, because in empty cars there is less iron ore dust whipping around (although there is still A LOT). We were able to lay down and sleep safely(ish) without having to worry about falling off when the train jerks around every time it slows down or speeds up (again, this happens throughout the entire journey). Really, I guess it depends on which way you are coming from. If you are coming into Mauritania from Senegal, you'll probably ride it full, if you are coming from Morocco, you will probably ride it empty.
We arrived at the "train station" around 15:00, having been told to expect a 15:30 departure time. We've traveled enough in these kinds of places to know that 15:30 is a very rough estimate and you might as well have just pulled a time out of a hat. The station itself was not much more than a concrete shell of a building, the entryway to which was simply a break in the barbed wire fence blocking off the rest of the tracks. There were already quite a few people waiting, mostly in the paid passenger area, which offered minimal (but not much) shade from the relentless Harmattan sun. The rest of the people were like us, stretched out along the tracks, laying up against their various sacks of who-knows-what.
Our Mauritanian friends had brought us to the train station and were waiting with us, chatting it up with other passengers and ultimately made friends on our behalf with three men who were apparently also getting off at Choum. Our friend asked if we would rather have our own car or ride with the men and we opted to join their group and ride together. We knew the train would arrive at nighttime; there would be no announcement as to where we were and whether or not it was our stop; it was likely that the map on our phone would not continue to give us an accurate update on our location (it did not, even with having a Mauritanian SIM card). It turned out to be a very good call.
As is standard procedure in this part of the world, it didn't take long for a policeman to notice the two foreigners waiting to board this notorious train and he drove up with all of the authoritative gusto we had come to expect but which actually only resulted in him looking at our passports (fiches were not sufficient here) and asking where we were going. As if it wasn't obvious.
Finally, around 17:30, we began to see a smoke stack billowing in the distance. The train was approaching. People had mentioned how heavy and massive this train was, but no description was able to put it in perspective until I saw firsthand this behemoth of metal screaming into the station and screeching to a halt in front of us. I began to get that feeling of nervous excitement in the pit of my stomach as I strapped on my backpack and climbed up the 3 or so meters into the car we would call home for the next 12 hours.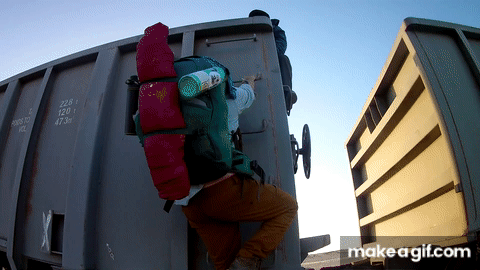 A big thing to know about these train stops is that you have plenty of time to get your shit together. The train stopped another two times before we reached Choum and every time it did, we had a solid 15-20 minutes before it started up again. Another, maybe even bigger thing to know is that when the train actually does begin, you need to be holding on to something…tight. The feeling was similar to what I imagine it would feel like if you were a pinball being shot out of the machine. There was a long sound exactly like a jet taking off right overhead, which I came to equate with the pulling back of the spring on a pinball machine and then…WHAM! The train car will jerk forward and the journey will begin again. If you are attempting to get a picture or check out the view…be aware of the spring-loaded pinball sound and know that you are about to get whiplash. This was another perk of being in the car with veteran passengers who warned us ahead of time.
As the train continues farther into the desert, the landscape becomes desolate and reminiscent of Tatooine. The sun dips in the sky becoming massive and red because of the dust and sand particles in the air. The train stretches on as far as the eye can see and traces of iron ore create a haze above the cars. It was one of the most beautiful scenes from our travels and we had that feeling you get when you feel you are part of something special, like you are the only person getting a chance to witness a secret spectacle.
The light fragmentation was beautiful; however, it was the dust from the sand and the iron particles making it possible, which was everywhere. IF YOU ARE PLANNING ON RIDING THIS TRAIN YOU MUST BRING SOMETHING TO COVER YOUR FACE. Seriously, not having even a bandanna would be miserable. I wished I had gone full Mad Max and brought goggles and a face-mask. I at least had my sunglasses, which I wore well after the light had faded and it was impossible to see anything with them. I also had my head wrap holding my hair down and a neck sleeve, which I pulled up over my entire face at nighttime. We've heard of people putting up their tents in the cars, which would be a great idea. We only had a hammock but if you have a tent, put that shit up! You're going to be on this train for at least 12 hours and the unrelenting sand/iron wind is brutal and gets on everything. Washing our clothes out afterwards there was just black sludge coming out of them. If you care about keeping your shit clean, definitely wrap it up in a blanket or some plastic sheets beforehand.
Our car-mates were professionals, though. They had brought blankets to spread out and had the fire up and going for tea and dinner before we had even left the station in Nouadhibou! They spoke very broken French and Gabe was kind of able to communicate with that but mostly it was good old fashioned hand signals (I was also smiling but my face was completely covered so nobody but me knew that… so maybe they were also?) They were very intrigued by our chess board so we attempted to teach them how to play but our lesson was interrupted by the time to pray. They all gracefully bent down touching their heads to the ground and stood back up repeatedly, eyes closed, without faltering, which I found to be very impressive considering the train was still jolting all over the place and I found it hard enough to just sit upright without losing my balance.
People we had spoken to had said that the way to Choum was far less comfortable than the way to Nouadhibou, but we didn't find it to be any less comfortable than you would imagine riding in a barren iron train on rusted, ancient tracks with no cushioning through a developing country would be. You get what you pay for.
Nighttime came quick and although our car-mates were still trying to get dinner prepared, we took the opportunity to try and get some shut eye, which was convenient because my eyes were already almost always closed at this point since it was finally way too dark for my sunglasses. I didn't want to sacrifice my travel pillow to the Iron Gods so we just used our backpacks as neck and back support. Eventually we began to wonder where we would use the bathroom but our questions we answered when one of the guys went to a corner of the car and took a piss there. Fortunately, we didn't see anyone have to take a shit while we were riding, although I'm sure it happens. I was still a bit timid, being the only woman and all, but right when I was about to overcome my insecurities about squatting down in front of these devout men, the train stopped and I was able to hop out and pee outside.
We continued on, the light becoming fainter. We busted out our headlamps and were happy to have them (our car-mates were too!) and it felt good to have something to bring to the table (our homemade Moroccan granola was not a hit). Dinner preparation was slow going. The fire was continually getting blown out by the incessant winds and so it was a stop and go, heat and cool process. Finally, close to 21:00, dinner was ready, although we were a bit apprehensive about eating due to the super unhygienic cooking process coupled with the fear of getting the shits on the train. But, it is rude (and honestly, almost impossible) to deny somebody's offer for food in Mauritania so we ended up eating enough to be polite but not enough to get sick. It was some damn good chicken though.
It was getting close to 23:00 when we finished and our car-mates decided to turn in for the night. The daytime air was still thick even this late into the evening and I was beginning to assume that everything we heard about the temperature dropping might not apply to our trip. I was wrong. It doesn't happen until about 2am, but it comes on quick. I went from being comfortable (enough) and close to dozing off to being freezing and under dressed in what seemed like mere minutes! We had the provisions for the cold night but had not gotten them ready beforehand so I was scrambling to pull one of our sleeping bags out and wrap it around me along with every piece of clothing I could easily get my hands on. It was still freezing. If you do this trip, don't underestimate the temperature drop that will inevitably happen at the least convenient time.
For some of the journey the sound of the train moving along the tracks was soothing and I almost thought it was helping me fall asleep. But then the speed would change, and that tell-tale sound would roar down the tracks and we would jerk forward and I would be wide awake again. It was a totally sleepless night, but I'm young and still can handle those and the stars above made it all worth it. There is no light pollution out in the desert where the train is leading you because there is nothing out there at all. It was surreal lying on our backs and looking up seeing nothing above but millions of stars. And of course, this was another instance where pictures and stories had not done it any justice. It was a "you had to be there" moment. And we were.
Sometime around 5:30, one of our car-mates woke us all up saying that we had stopped in Choum. A zombified mobilization effort commenced with all of us attempting a unified strategy of helping each other gather the belongings strewn about our corner of the train car, despite the language barriers, which were even more pronounced in our sleep deprivation. We somehow managed to collect everything and as soon as we climbed outof the train we were confronted by the flurry of other people scrambling to get into the few taxis available to Atar, the closest "real" town. However, one of our car-mates had conveyed to us that he was also going to Atar and we could go together so we didn't feel the need to rush the already full taxis.
I felt like I had been up all night on psychedelic drugs. I was standing but was not really aware of my body; my jaw hurt from clenching it so hard all night (probably in anticipation of becoming a human pinball again); I knew I needed water but didn't feel thirsty. All I was focused on was our bags and getting to Atar. Get to Atar, get to sleep. Wash face, was also somewhere high up in the agenda.
The taxis all hurried off and it was just the three of us standing alone, in the pitch-black night, in some bum-fuck Mauritanian town, at 5 in the morning. Our car-mate wandered off into the darkness, leaving his bags by the tracks and I began to question our decision to trust this guy to take us with him to Atar. We genuinely didn't know him at all. Not even in the small ways that we feel we know the people who give us rides hitchhiking. We had exchanged cumulatively a handful of sentences and in retrospect, probably none of them had been communicated effectively. We knew he most likely wasn't going to rob us because he could have just done that on the train, right? Unless he had some friends here who were going to help. Or unless he was planning on waiting until we got off in Choum from the beginning because then we wouldn't have anyone to notify about it. Or maybe he was part of a Mauritanian kidnapping band that people had spooked us about and we were about to become the dreaded "statistics". My sleep deprived brain played through these scenarios for about 5 seconds before I became too tired to be paranoid or really even care. Get to Atar, get to bed, wash face.
Our car-mate returned from the darkness after a few minutes and proceeded to just sit down on the tracks and ask us what we were still doing there. We were taken aback but not completely surprised and tried to explain we thought he had offered to share a taxi with us. He just smiled and nodded. A few more minutes passed and we tried to politely ask where his ride was. He pointed to the lights of Choum, maybe a half kilometer in the distance, and said we needed to walk there. At that point we knew we had been misled/confused/misinformed…whatever had transpired, there was a miscommunication and we were not without a ride, in the wee hours of the morning.
We decided to take refuge in the heart of downtown Choum, which consisted of nothing more than an old train car with a radio, a shed, and a bright light, which we decided to sit under until the sun came up. We figured there would be little chance of us getting a ride that late at night and if we did we were either going to get charged a ridiculous amount of money or likely get a ride with some sketchy people we did not have the brain power to confront. So we sat under the one light in the town, playing Would You Rather…?, and listening to voices on the radio discuss what I assumed was the whereabouts of the one train (on the one track) until the sun came up and we were able to hitchhike to Atar.
Concise Advice:
Bring something to cover your face and eyes
If you have a tent, put it up
Try and ride in a car with other people if you are riding to Choum (if you're going to Nouadhibou it will be daytime when you get there and will be very easy to tell you have arrived)
Have warm clothes/blanket accessible for when you need it at night
Bring heaps of water with you. There are no places to buy any between Nouadhibou and Atar.
Wrap your shit up in a plastic sheet/blanket if you don't want it to get caked in iron ore
Bring a headlamp
It's at least a 12 hour train ride. Bring heaps of water and snacks with you. Especially if you are riding to Choum, there is not shit there until you get to Atar.
Bring something to sit down on like a blanket/cardboard/something to keep you off the train will keep you a lot warmer at night.
Get in one of the taxis when you arrive in Choum unless you want to wait until morning. They are going to be mad expensive and we ended up being able to hitchhike the next morning but that's definitely not a guarantee.